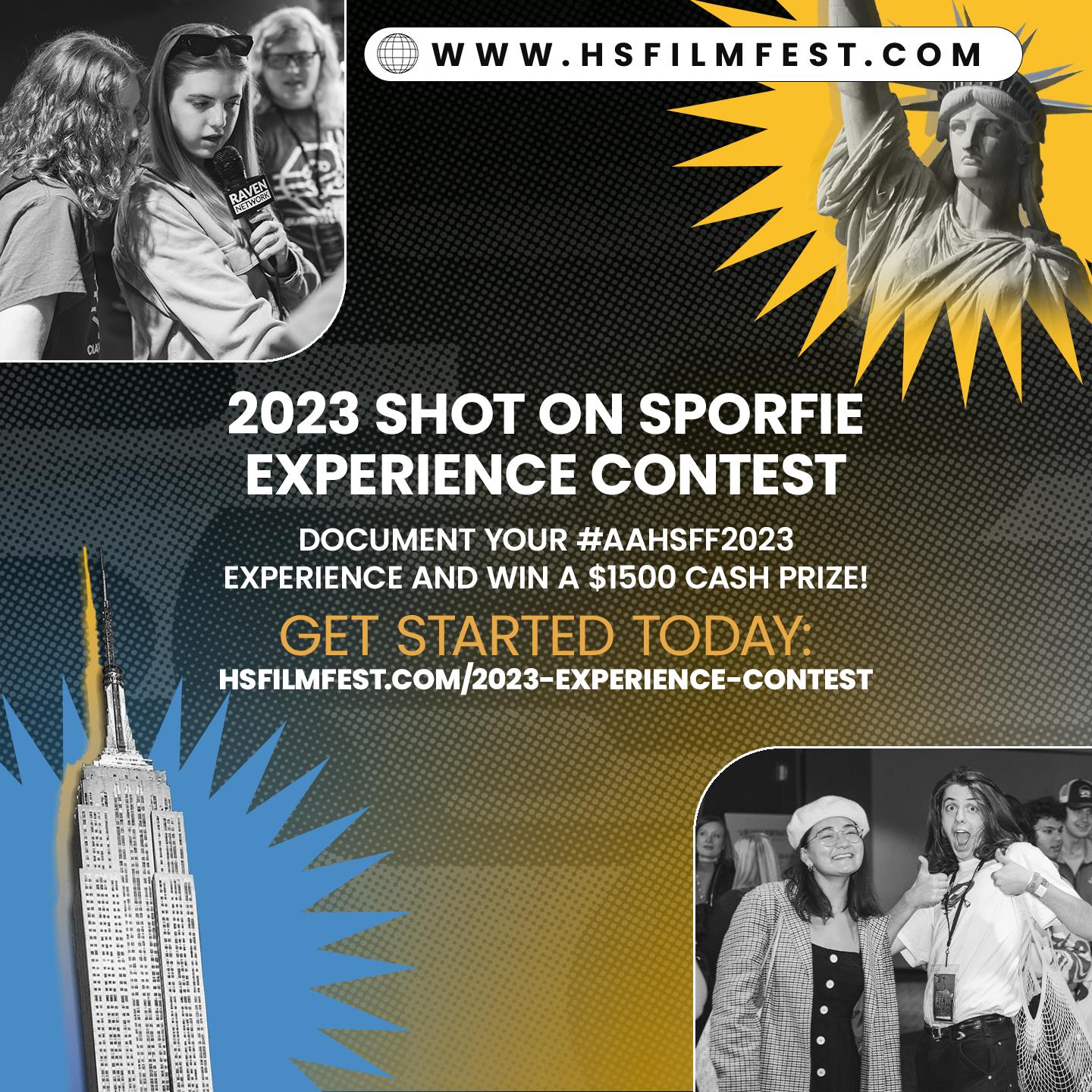 What is Sporfie?
Sporfie is a mobile first application that easily puts live streaming in the hands of the user. This powerful tool combined with the educational setting creates a unique and unrivaled learning experience.
Go live in seconds anytime, anywhere
FREE for your audience to tune in
Fundraise up to $21K
On demand playback and download of your streams
With a little creative thinking from media teachers and students, the sky is truly the limit. Sporfie will provide all training and continued support for students and staff.
2023 "Shot on Sporfie" Experience Contest
Plan on attending the 2023 All American High School Film Festival in NYC? If so, we want you to document and share your entire All American adventure! The AAHSFF Experience Contest is one of our favorite traditions, and this year we're partnering with "Sporfie" to help you fundraise while capturing your entire festival experience! Even better, we're offering awesome cash prizes for the top three submissions. So keep your camera rolling and show us what the fest looks like through your unique lens.
The contest is open to all student festival attendees and it starts RIGHT NOW! Share everything from your planning and preparation, your travel to NYC, your new friendships and sightseeing, your Teen Indie Awards red carpet looks, and even your journey back home…  Did you travel by plane, train, moped, or horse? Did you face obstacles? Funny moments in your hotel room? This is your chance to showcase your creativity! 
All submissions must use Sporfie for filming of all content.
2023 AAHSFF Experience Contest submissions will open on FilmFreeway after the 2023 festival on Friday, October 27th. 
The final submission deadline is Friday, November 17th. 
Winners will be announced live on Instagram at 8pm EST on Thursday, November 30th!
Contest Prizes:
First Place: $1500
Second Place: $1000
Third Place: $500
Additional Details:
Create a vlog-style video sharing your entire 2023 AAHSFF experience from your hometown to NYC and back.
Submissions may be 1 - 3 minutes total run time - not to exceed 3 minutes - documenting your entire experience from day one of Sporfie activation to the competition deadline on Friday, November 17th at 11:59pm EST.
All submissions MUST use Sporfie for filming of all content.

How It Works:
Register for a Sporfie Account & Consultation HERE or using the contact form below. (It's FREE!!!)
Schedule a meeting with Team Sporfie for training, onboarding and support.
Opt-in to fundraise on Sporfie.
Start documenting your 2023 All American adventure on Sporfie.
Edit and submit on FilmFreeway by the final deadline on Friday, October 17th at 11:59pm EST.
Tune in to Instagram Live on Thursday, November 30th at 8pm EST to see who wins!